About Us

In 1998 Frank became disillusioned with the amount of fertiliser and chemicals he was using.  All of these were designed to grow the yield but they also had an adverse impact on the taste of the fruit, the shelf life, and of course on the health of the soil, insects, animals and nearby waterways.
Despite the enormous pressure on the industry to use more and more agri chemicals each year, Frank noticed that he continued to experience escalating pest problems.
He made a decision that year, to investigate other potential farming systems.    After researching organics and many other styles of sustainable practices, he decided to create a new, creature friendly method of farming.  The existing organic systems, while admirable in theory, simply did not achieve the environmental outcomes that he aspired to achieve – in terms of building up the soil, protecting the waterways, and maximising the input of insects and animals.
He wanted to produce a banana that would mimic the way nature intended it to be grown.  This meant finding a way to grow in balance with the soil's capacity to grow food naturally – not force feeding for bunch size or yield, but grown the way food would naturally devleop in the wild.
Frank wanted to create a vibrant ecosystem where all creatures great and small – organisms, insects, reptiles, birds, and other animals could help him grow his crop.  He saw as these creatures as nature's workers or helpers in producing a tastier, healthier banana.
This new farming system protects the environment – it encourages all creatures to flourish, contributes to the health of the soil, protects the waterways and produces a far superior banana.
Pacific Coast Eco Bananas strive to address zero impact upon nearby waterways and the Great Barrier Reef.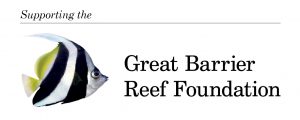 The Great Barrier Reef Research Foundation formerly endorses Pacific Coast Eco Bananas' growing protocols.
How We Created The New System  –  Read More >