Media Release
Eco Bananas forces Fyffes to withdraw from Innovation Award
Aussies are top bananas in trademark row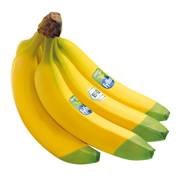 Trademark action by Australian Eco Bananas has forced a large European company to withdraw its nomination for a major international innovation award.
Fyffes of Germany was one of 10 companies who nominated for the Fruit Logistica Innovation Award (FLIA) 2010 in recognition of outstanding innovation in products and services.
The competition is open to all companies exhibiting at Fruit Logistica and Freshconex 2010, which have commercially introduced an exceptional innovation to the market in the period from 1 November 2008 till 31 October 2009.
Fyffes, which is one of the largest tropical produce importers and distributors in Europe, based their nomination for innovation on waxing the tip of their bananas to identify their organic status. They claimed 'The green wax tip of Fyffes Organic Bananas is an innovative, unmistakable and at the same time attractive indication of the organic, environmentally friendly origin of this product'.
But Pacific Coast Eco Bananas, an Australian company based in North Queensland, created and developed the innovation of the wax tip banana to identity their eco-banana product more than 10 years ago. A spokesperson for the company, Dianne Sciacca, said: "We immediately sought legal counsel".
After receiving evidence of Australian and Overseas trademarks and supporting information Fyffe has now withdrawn their entry from the awards. "Their withdrawal from the award is a satisfactory outcome for our company and eco products, and confirms the value of international trademarks system," said Sciacca.
Freshlogic director Martin Kneebone said that the wax tip is a highly effective way of conveying eco, organic and environmentally friendly benefits to consumers and that is why Pacific Coast Eco field ongoing commercial enquiries to use this innovation with other fruits and foods. However, they also recognise its long term viability is linked to the adoption of robust production systems that ensure the claimed benefits are delivered.
Source: foodweek.com.au
Publication date: 2/4/2010